Hello Bed Race teams, fans, supporters, and volunteers!
TODAY was without doubt an INCREDIBLE day for the Lakeridge Health Whitby Hospital and Foundation!!!!
Ten teams assembled in support of the Bed Campaign for the Whitby specialty hospital. Over $10,000 was raised to buy 2 beds for this hospital.
This event was EXCITING! During one heat, The Dunlops and the Fury were neck in neck - go figure! Then OGS had the best wipeout - no one was hurt, just the bed! The Brooklin Spring Fair organizers and Gus Brown GMC had some pretty fancy pit area decor! Teams such as Monica Uren and the Sutton Group Negotiators, Whitby Rotary Sunrise, Lakeridge Health Employees Bed Sledders were all dressed to impress! And the Whitby Rotary Club team and Christine Elliott and Jim Flaherty team came prepared to out cheer the masses! Great SPIRIT everyone!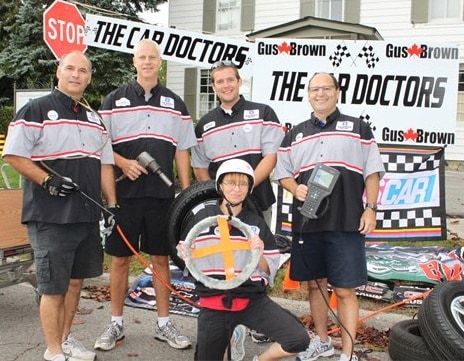 Our event emcee, Joe Tilly,- this goes without saying but we will anyway - was the best bed race emcee EVER - it was our first race but still, he is the most enthusiastic fella in the biz - loved the play by play, Joe! Thank you for volunteering today!
The truth must be told that this event ran smoothly because of our volunteers. We had Mary Lavelle who was going to help pass out Poweraide but was re-assigned to the be the "bed-sitter" for the Dunlop Hockey Team! You know Mary, that hockey helmet you wore was the finishing touch to the sassy ensemble you were sporting today. You go girl! Pat and Jane, stellar staff at the Whitby Hospital, were part of the set up team early this morning and were our Start your Engines flag girls! You out did the flag girls you see at Nascar - just say'n! Our hospital engineers, Wayne, Darrin, Mike, and Andy also exemplary members of the Whitby Hospital Staff, measured, repaired, set up and always answered my plea for ... "help!" - you rock! Foundation Board Members, Judi Longfield, Jane Conte, Jim Corrigan, and Norm Mackie, were Jack and Jill of all trades this morning when setting up. Thank you Judi for our fancy campaign buttons and clever judge tags - how much money did we make taking bribes? Just kidding! Thank you Jane for your sound effects and technology expertise! And Norm, my very sincere appreciation for having Mackie Moving transport all of the beds TWO weekends in a row... Mackie Rules! I must mention that Mackie worked with Mike Yakomovich, another amazing member of the Lakeridge Health staff to coordinate the use of the beds for today's event - not an easy task! Then there is Sue Pitchforth who always answers our call for help and she also inspired us to organize this race for the Brooklin Harvest Festival which turned into the Heritage Days Festival thanks to Kim Trafertosher's (Town of Whitby) assistance and quick planning. Annie Henderson was awesome in coordinating the four fun awards given out today! Dave Samson, President of BAM Lions Club, was on hand with Councilor, Lorne Coe to be official race timers - nicely done gentleman!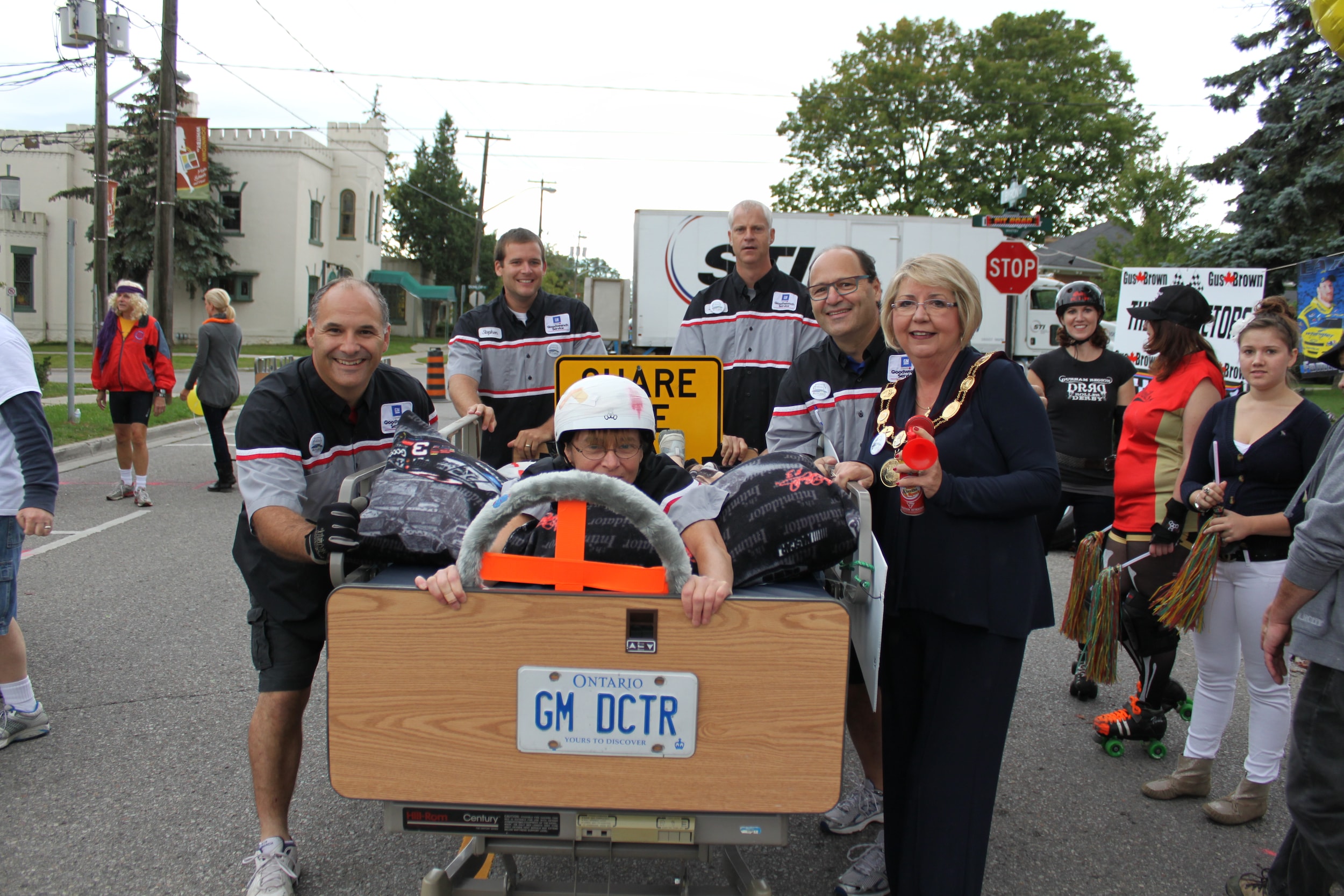 A big shout out to Mayor Perkins, Honorary Campaign Co-chair and Denis Ayotte, Campaign Chair for making this event fun today! Your energy and ability to be good sports brings up the excitement level!!!! Thank you for being advocates for this hospital and believers in the work the Foundation does - you two are the BEST! I must also give a shout out to Cheryl, Leah, and Andrea who work in the Office of the Mayor - each of you are wonderful and so very helpful!
The Media coverage today was awesome! Thank you Rogers, Metromedia, SNAP Whitby, Chex TV, Whitby this Week for coming and taking the time to do interviews along with the video coverage! A special thanks to Terry Johnston, CKDO, for spreading the word about these races. Terry was scheduled to race for the Gus Brown team last week but couldn't make this week - we missed you!
And now is the time for me to share how much I appreciate Mary Galati-Weller, a part-time employee to the Foundation - An amazing employee! Mary's positive attitude and excellent organization makes our events seem effortless but they are not! She is a wonderful person and I really value all she does for this Foundation - thank you!
Let me share that there is an amazing graphic design company, Serendipity Graphic Design, owned and operated by Lisa Ruck. Lisa manages all the Foundation's promotional materials for our events, our website and facebook accounts and much more! She makes us look great! Lisa also volunteers a great deal of her time to this Foundation - even her husband Chris came and helped today. Lisa has taken time to talk with our patients and their families. She develops materials that reflect the patient's experience; in her design, she expresses the kindness of our volunteers and our employees who care for the patients, their families and our hospital! Thank you Lisa for being our event photographer today, for designing all the event appreciation materials and for updating our website, Facebook page and tweeting about this event!
This may seem a bit long to some but for me, appreciation runs deep for every contribution made by so many! I cannot thank everyone enough for looking after the Lakeridge Health Whitby Hospital and this Foundation. Each and everyone of you made a difference today......and will continue to!
Thank you!
Sincerely,
Lisa Zanlungo
Executive Director
Lakeridge Health Whitby Foundation